Introducing.........
"Amy"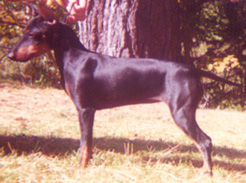 KREUZRITTERS R U TALKIN TO ME???
(vWD "Clear" by Parentage)
(Cdn Ch Trilogy Signature Edition X Am/Cdn Ch Dresscircle CashFlow Poricia)
Breeder: Tina Sandford
"Kreuzritters" is proud to present the newest addition to our family.
"Amy" is pictured above at only five months of age; we are excited about this young girl's potential and look forward to her show debut in the New Year.
Wishing you all a Safe and Happy Holiday Season!!
Tina Sandford
116 Riverside Drive
Fredericton Junction, NB
E5L 1V7
(506) 368-9094
Internet:
sanford@nbnet.nb.ca
http://members.tripod.com/kreuzritter