This is Matthew's story, how he came to us as a rescue and how he struggled and overcame his terrible injuries to be a happy (albeit spoiled) Manchester.
In June 1997, I found Matthew lying badly injured in the Vancouver SPCA Hospital. He had been hit by a car on a busy road in east Vancouver, almost a freeway, and left to die. Matthew had no tattoos or ID and his owner never contacted the SPCA to claim him.
His most serious injury was a badly shattered back leg and he was in agony. The SPCA had inserted a temporary pin to stabilize his leg while it healed but Matthew was not doing well and no one wanted him. I adopted him, named him Matthew, and brought him home. Within a week of having the pin removed, his leg broke again on its own. We found a veterinary orthopedic surgeon who gave us the option to amputate (recommended) or the insertion of a special metal plate that had to be screwed into Matthew's leg. Well, many $$ and a year later, Matthew was doing very well, thank you very much! We even found a physiotherapist who would work on him after office hours when her human patients had left and this was a tremendous help.
Matthew is our first Manchester and what a character he is! He is also one of the smartest dogs I have ever come across and has an absolutely amazing ability to communicate with us. He shares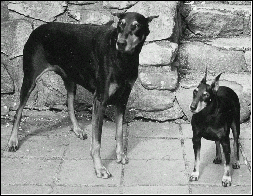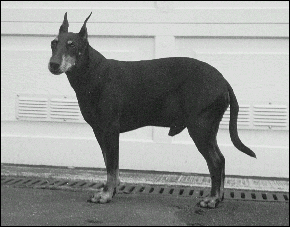 his house with a Doberman and two miniature dachshunds and rules the roost. He loves to go for walks when it is not raining and always gets the best spot in the sunroom on warm, sunny days. He is indeed a special fellow and we are so blessed to have him. Matthew came to us when he needed us most but he has given more to us than we ever could to him.


Matthew is a large standard (24 lbs.!) with beautifully cropped ears and is now probably somewhere between 10 and 12 years old. He may have lived in an apartment with an older person and a cat, as he knows how to use a litterbox and has many catlike mannerisms. When examined at the SPCA hospital, he had no discernable tattoo and was not neutered.
My fondest hope is that someone may recognize Matthew or his lines and I could locate his breeder and let him/her know that Matthew is well. I would dearly love to talk about Matthew with his breeder. If you think you might have an idea as to Matthew's background, please let me know. You can contact me via e-mail at scoghlan@infoserve.net or leave me a message at (604) 261-8264 and I will be happy to call you back.
The sad part of Matthew's story is that no one wanted him and he could so easily be any one of our Mannys, fallen upon unexpected hard times. Fortunately, there are not many Manchester rescues in this country but as Matthew can tell you, they do exist.